About the Firm
With a focus on fostering new futures, it's only appropriate that the Haven Real Estate headquarters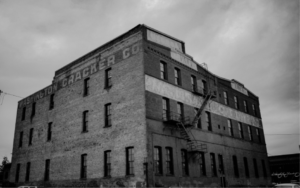 are located in a building that's over one hundred years old. The historic Washington Cracker Box is located in the heart of Spokane and was recently renovated, giving an old building a new lease on life. Its new residents include Overbluff Winery, Anvil Coffee Roasting, Inland Pacific Kitchen and Catering, a Yoga Studio, Fellows Co-Working and, on the top floor, Haven Real Estate and Envoy Mortgage.
The Heart and Soul Behind Haven
Founded by husband and wife team Robert and Cambria Henry, Haven Real Estate Group grew out of a love for real estate and a true need for better training and treatment in the industry. "We often hear agents remark that they feel like 'just a number' at the brokerages they work with," says Robert.
After hearing so many agents express displeasure at being released into the market untrained and without support, the couple decided to do something about it. Together, they created a new brokerage model designed to be responsive to today's consumers, espousing old fashioned values, communication, and professionalism in favor of a better way to do business. And it's working – Haven Real Estate Group quickly rose to become one of the top real estate brokerages in Spokane within their first year, resonating with both clients and agents alike.
A Hands-On Approach
Robert Henry met his future wife, Cambria, at a leadership training conference in 2010. At the time,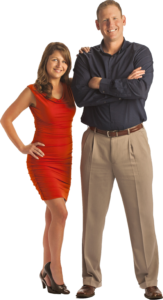 Robert worked for a national brokerage firm, while Cambria owned a mortgage broker recruiting company. The two became fast friends and continued to work on their leadership and personal development skills as a team after the conference concluded. Friendship lead to romance, and the two soon married.
When Cambria began her real estate career, she too was shocked at how little training was available for new agents. Moreover, she soon realized that the training that was available was outdated and ineffective. "Several years before getting licensed as an agent, I'd purchased a house using a realtor and was really disappointed with the lack of communication and professionalism," says Cambria, "when I became a realtor and participated in "new agent training," I was shocked at the apparent indifference to the consumer experience in a real estate transaction."
A Passionate Mission
Through their personal and professional experiences, the Henry's have developed a strong passion for leadership and personal development. Together, they combined their skills and background to create a new kind of brokerage, one designed to make a lasting difference for Spokane agents. Haven Real Estate Group was born on these principles and, demonstrated by its rapid growth, it's clear that Robert and Cambria know exactly what agents need.
Real estate is a career that demands the highest levels of expertise and professionalism, and that's what the Henry's seek to deliver. All clients have different personalities, varying needs and interests, and widely different expectations, creating a complex web for realtors to navigate. To Robert and Cambria, the key to a great client experience is a professional that knows the ins and outs of real estate and, most importantly, takes the time to really understand and listen to client needs.
Training to Succeed
In an industry where nearly 60% of new agents fail within their first year, over 95% of new agents who begin their careers in Haven Real Estate's New Agent Training program continue with in real estate. In fact, while the average new agent only closes three transactions in their first year, new agents with Haven Real Estate close an average of 17 deals. Despite the norms, the Henry's have shown that what seemed impossible is truly within reach.
Today, Cambria focuses her efforts on Haven Real Estate's New Agent Training Program, providing high quality leads and transaction support to new agents. Through her tutelage, new agents get to spend much of their time learning to provide extraordinary service to consumers. Cambria spends 10 hours a week in the classroom training with Haven's new agents. New agents each have a training coach, transaction manager, and marketing support team also.
Robert spends his time coaching and advising experienced agents with their own personal business plans. His efforts include developing agents' online presence and reputation as well as building the framework for future business growth.